cliffschecter Rep Steve Pearce took 19.5K flight2 Egypt in 2012 &billed taxpayrs. Maybe thght was red ink instead of red eye? (I'll b here all week folks)
Looking for a student at the University of Miami for an easy project. Message me if you can help.
cdashiell Ugh. I had to catalog James O'Keefe's book today. I'm going to heave.
takimag "The James O'Keefe we've been spoon-fed by the media is not even close to the real person." - Gavin McInnes for… fb.me/2gUBiDR1T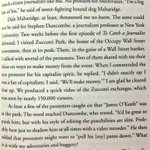 JamesOKeefeIII Hey Prof. Duncombe, @srduncombe, I'm back! In the lobby of 1 washington place w/ film crew. Can you come down? Gift pic.twitter.com/zP9weiYdSm
Nelson Mandela is a terrorist.