Reason for massive police presence at Huntington Beach riot is the outsourcing of local police duty to Sheriffs. Classic free rider problem.
Trayvon riot & Huntington Beach riot come from the same permissiveness nihilism that is taught in the government schools. Nobody is punished
Hard to see why over two hundred cops in riot gear with machine guns is necessary in Huntington Beach.
Turned over portapotties, stolen surfer clothes, broken street signs in Huntington Beach do not equal Sharpton style race riots. Sorry media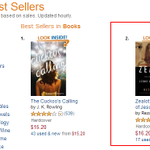 JuddLegum Step 1: Write book

Step 2: Subject yourself to bigoted interview on Fox thkpr.gs/13PJdlU

Step 3: Profit pic.twitter.com/WFGkgLhe1g
Interesting isn't it how there have been so many riots in California? Oakland, Compton, Victorville, & now Huntington Beach. Yay liberalism!
Seemingly every cop in Orange County is at riot in Huntington Beach. Don't get any ideas criminals!
Sorry professional racists. The riot was racially mixed, not white kids. I was at Huntington Beach riot. Oh & you are running the country!
Huntington Beach police shittily handled the riot. They kept yelling at us and blocked off PCH and wouldn't let us cross the street to leave
The riot notwithstanding my wife and friends had a great time walking along the beach in Huntington Beach.
LANow Another image from Huntington Beach from earlier this evening: Youths vs a Stop Sign. via @LinckHB pic.twitter.com/TY4s74WGb9
I ate some food from a Viet altar for the dead. It was a pastry. Whoops!
Cops were also about to deploy tear has at Huntington Beach riot. Wife and I were banned from crossing the street. #Riot
Cops from across Orange County were in riot gear tonight. Seems an overreaction to some admittedly rowdy behavior. Huntington Beach.
Huntington Beach riot has kids running around with broken stop signs, stealing from surf shop. Cops from all over O.C. #riot
I was there w/ wife. massive cops "@ABC7: Reports of major disturbance in Huntington Beach after US Open of Surfing, details developing.
So a riot broke out at Huntington Beach while I was walking with my wife and friends tonight.
CBSLA #BREAKING Huntington Beach Police's Lt. Mitchell O'Brien said sporadic fights are breaking out and large crowd is "less than cooperative."
LinckHB Issues down on Main St. in Huntington Beach. @Silkbrah pic.twitter.com/GBndGIdgq3
SoCalEMSFire *Riot* Huntington Beach. Main St & PCH. Riot has broken out resulting in multiple stabbings and fights. Tear gas deployed.
If Latinos are assimilating why is it that Spanish language television is a booming business?