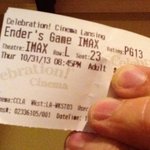 FlipbookMPC 20 years ago, I made a wish. #EndersGame @EndersGameMovie pic.twitter.com/7wPnMrGYYN
@DanSWright Of course it is their right but whether they should or not is another question.
Disappointed that Ender's Game didn't call the buggers the buggers!
Gays who are boycotting Ender's Game are proving Orson Scot Card's point about bigotry toward believers.
SonnyBunch Dear fascists: Your boycott of Ender's Game, the book, seems to be going really well! pic.twitter.com/FydBNfcIAt