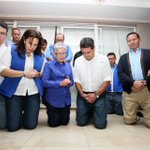 UniPolitica Así agradeció @JuanOrlandoH por la victoria que hasta ahora muestran los resultados oficiales pic.twitter.com/fbUfdmBa2u #Honduras
Hmmmmm RT Twitter says fake accounts represent fewer than 5% of its users. Others believe the number is higher on.wsj.com/1g9A4ZQ
@kathleenbreit 1. Find high IQ students through SAT, other tests 2. Find the ones rejected by top schools 3. Offer them $ for return on IQ.
@kathleenbreit Possibly right about nascence. I would have expected a faster return, fewer kids returning to college.
@kathleenbreit A basic math problem: 20 under 20. If you assume genius is one in a million (a low estimate), there should be 7000 fellows.
@kathleenbreit Then how do you explain the paucity of successes from Thiel fellows? Where's the Google from them or the next big thing?
@kathleenbreit A better question: how do you scale Thiel fellows?
@kathleenbreit Imagine a service where every thing that correlates with IQ but not IQ were listed.
@kathleenbreit Only if you are offering a job. A credential isn't a job. Griggs is clear on this.
@kathleenbreit I think the bright middle class and getting them to choose other than the top schools is the way. Many schools study Ivies.
With few exceptions book publishing seems to be dominated by older men postage college educated girls. Are there other fields like this?
It is my sincere hope that an obama or a kerry becomes to the 21st what a quisling was to the 20th. #iran
I have found a GOP candidate for federal office who has committed absentee voter fraud. Any guesses as to which one?
@kathleenbreit True but that only has a .7 correlation. I'd like to see a company buy the list of top SAT students & offer them alternatives
In the age of the kindle it is surprising to me how many publishers still mail me review copies. Why?
Anyone have any good ideas on how to short the higher education bubble? I'd say IQ tests with corporate credentialing but I am open to ideas
My wife is happy and resting. pic.twitter.com/Qosr3NoUaS