Legalized Prostitutes At Nevada's Bunny Ranch Back Obamacare « CBS Las Vegas cbsloc.al/1civuId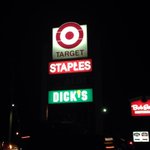 bonnie_mccall Stay classy GR 👌 pic.twitter.com/S0uhzPc8GG
NRO 'Electric Cars Up in Flames: A List': Tesla, Chevrolet, and Fisker have all produced cars that caught on fire. natl.re/1bDtFa7
Bloomberg is attacking for golfing during train crash but Obama isn't for golfing all the time.
Call me cynical but Amazon Air Delivery might just be a marketing attempt right around Christmas. Earned media is amazing sometimes.
I bought an ethernet cable at Wal-Mart at 3 AM in the ghetto. It was a lot of fun. There were lots of children.