I was made fun of when I said Sandra Fluke would be a member of Congress. Yeah….
I got to meet Larry Elder in the flesh tonight. What a pleasure!
larryelder Neither ABC, CBS nor NBC did post-speech "fact-checking." But WaPo's "Fact Checker" gave Speaker Boehner three Pinocchios for his tan.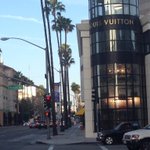 LonnyLeitner Beautiful morning in Beverly Hills. Love listening to folks around here complain about how cold it is #LAproblems pic.twitter.com/Gh944X359s
EricBandazewski @EricBandazewski: @michellemalkin @msnbc Look! My daughter and I w/me in Afghanistan!#MyRightWingBiracialFamily 🔫😎🇺🇸 pic.twitter.com/YbOQ8BqMue
madgrammy84 #MyRightWingBiracialFamily @msnbc @michellemalkin in the heart of Texas we dont see color just love here! pic.twitter.com/Uxmh1ql9lI