I want taxes to be less that the people may have more.—Coolidge
I support dynasties if the last name is Adams but not Bush or Clinton. A natural aristocracy is preferable to an oligarchy.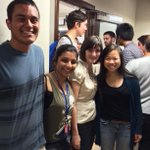 SandraFluke Will you stand with me to fight for affordable education? (Photo with UCLA Bruins) bit.ly/1oQuMu3 pic.twitter.com/qxcOutetih
betsyscribeindc I'm told @RogerJStoneJr is the male fashion editor for The Daily Caller. He authored "The Man Who Killed Kennedy: The Case Against LBJ"
Something is wrong with a country where children aspire to be lawyers.
If you could fight any celebrity who would you fight? I'm going with Gwenyth Paltrow.