"I don't have a problem with what he did," said Representative Devin Nunes in favor of John Boehner mocking conservative against #Amnesty
Rep. Devin Nunes says that Justin Amash is "al-Qaeda's best friend in Congress." How does he know? Did he ask al-Qaead?
When Jill Abramson defended Anita Hill at Lake Forrest I couldn't help but laugh about how ridiculous the NYT is.
I long for the day when commencement speeches actually said something of substance.
"If the U.S. government wants us to do it, I'm glad to try to get it going again," Joe Schmitz said on intervening in Syria. Oh man.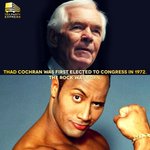 TeaPartyExpress Evidence that Thad Cochran has been in DC too long: When he was first elected in 1972, @TheRock was just born! #mssen pic.twitter.com/yaUlartgOH
It's a lovely day in the neighborhood.
If we had listened to Shinseki at beginning of Operation Iraqi Freedom, we wouldn't have the #VA mess. We would be better off out of Iraq.