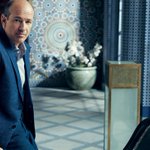 THR 'Homeland' producer Howard Gordon attempts to sell America on FX's Arab drama 'Tyrant' j.mp/Ul8X8X pic.twitter.com/XqRHWv7dX8
It is tragic when the only way people think they can get ahead is to flee their homeland. @k_mcq
Cruz is exactly right about criminal cartels. I once watched their handiwork on Guatemala-Mexico border. Pretty grotesque. @k_mcq
@k_mcq race wars are best when fought by foreigners against foreigners.
@k_mcq at least he isn't pressing them into military
It's UHaul, not WeHaul. Glad to see this sphere of life avoids communist excesses.
Oh wait. I guess I did vote for Leland Yee over Kashkari!
I'd rather vote for Leland Yee than Neel Kashkari.